What to Know Before you Go
Human On A Stick has been giving Segway tours for almost 20 years, so we are pretty much experts on the topic. Many of our customers have their first Segway experience with us, and often want to continue their adventure in other cities. After being asked many times what we recommend in other tours, we decided to write these tips for what to look for when finding the perfect Segway tour for you and your family.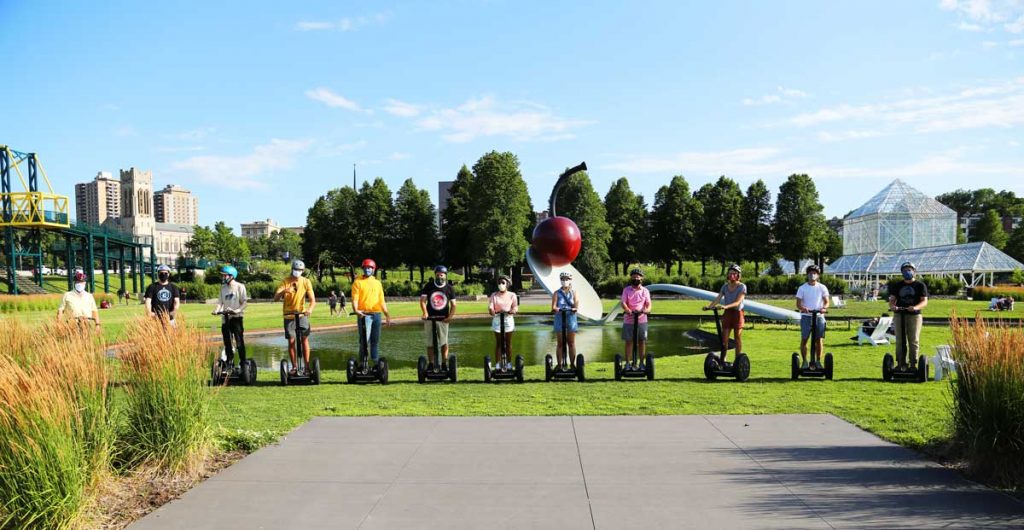 1) You Want a Guided Tour – Not Self-Guided or Open Rental
Our first tip when finding a Segway tour is finding a tour that is led by a guide. There are many reasons to want a tour guide, but here are just three:
Safety: A guide or, better yet, guides, not only point out the tour content, but instruct you of any problems or obstacles you might encounter during the tour. If anything goes wrong, they are there to help you and make sure you stay safe.
Tour Experience: A seasoned guide can really make the difference in bringing a rich, knowledgeable, interactive experience to any tour. Not only can guides deliver informative and charming anecdotes, they will try to crack their best jokes to make you have a great time.
The Guidance: Who wants to read a map and decipher your way around an unfamiliar route? A good tour company does the discovery for you and shares with you the hidden gems that often are missed by the locals.
2) Safety First – Find a Place that Prioritizes Safety
This is kind of a given. Of course you want you and your family to be as safe as possible on your Segway adventure, which can definitely be intimidating for beginners. The only thing to help people get over their initial fear is intensive safety training and Segway practice led by a professional tour guide.
Human On A Stick follows strict safety guidelines to ensure that families stay safe and have a great tour, but many tour companies don't take these measures. We suggest prioritizing your family's safety and doing the research to find a tour that does too!
3) High Tour Guide to Guest Ratio
Another important thing to look out for regarding safety is the customer to tour guide ratio. The more riders there are, the more tour guides there should be to ensure that every rider is accounted for and taken care of. Human On A Stick has a 3:1 rider to tour guide ratio, because that extra labor is worth it to us to make sure no rider is left behind. Many tours have a lower ratio, so be sure to check on that before you embark on your adventure.
4) Engaging Tour Content
The third tip from us is to find a Segway tour with engaging content. You want to have fun, right? Some would say this is the most important part! Do your research. Find areas you want to explore. Ask yourself these questions: Where does the tour route go? Is it a historic area? What will I learn? Is it just a joy ride?
If you won't learn something new or exciting then it might not be the best tour for you. Reading through the company's website is a great way to discover where they can take you and what secrets of the city you will learn www.humanonastick.com
5) Customer Testimonials
What's a better way to learn if the tour is good than by hearing from past customers? Everyone needs to know that the Segway tour was well-enjoyed by previous families and groups to be sure that they will enjoy it too! TripAdvisor– Human On A Stick is #1!–, Google Reviews, and Facebook Reviews are great places to hear testimonials and experiences from those past customers. Videos can be great resources too!
6) Store Location
The last tip regards the place you will first meet your Segway chariot, and where you will send your bitter farewells: the retail store location. A good retail location offers benefits to the customer. It is important that it has good amenities, like a clean restroom before a long tour, is comfortable and tidy, and has nearby attractions like restaurants, bars, and other things to see.
Human On A Stick is located right along the Mississippi River next to the historic St. Anthony Main Theatre and Aster Cafe. Walkable distance to the Stone Arch Bridge and countless yummy restaurants. Come say hi at 125 SE Main Street, Minneapolis, MN.
7) Good Company Policies
A) Refund Option: If you are unable to take the tour for an honest reason and communicated that, the Segway company you tour with should have strong cancellation policies and refund options.
B) Weather Policy: What will the company do if its lightening? Will you be able to reschedule the tour? These are questions that a good tour company can help you with.
C) Segway Driver's Licenses: If you had a successful Segway tour, the best tour company will offer you a hilarious driver's license, like this one we offer: